Michigan's Mountain Magic
Brad Dean took a break from his duties as director of golf at Crystal Mountain Resort & Spa and attempted to recite a complete list of golfers who'd attended the property's acclaimed golf academy in recent years. "We've had three students who've won the Michigan Amateur Championship," Dean said. "And we've had a couple of players who qualified for the men's Champions tour," he added. "And we've worked regularly with Ryan Brehm, who just played in the Buick Open and won the Michigan Open with a score of 20-under-par."
On the very afternoon Dean spoke, a colleague was awaiting the arrival of LPGA Tour star Candie Kung at the resort. The 2009 U.S. Open runner-up is a student of academy instructor Adam Schriber, whose star pupil is PGA Tour champion and Ryder Cup hero Anthony Kim.
Featuring two outstanding 18-hole layouts, a recently opened $5.5 million spa and wellness center, indoor and outdoor swimming pools, and luxury cottages and condominiums, the resort caters to families and golf groups. "Families flock to the resort because of the variety of offerings," Dean stated. "One spouse might be out on the golf course while the other one is receiving a full body massage while one of the kids is taking a golf lesson while another family member is mountain biking. Another advantage the resort offers is we're less than 20 minutes away from Lake Michigan and only 40 minutes away from Sleeping Bear Dunes National Lakeshore."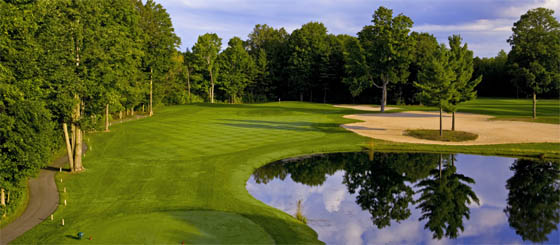 The cornerstones of this four-season resort are the two contrasting golf courses. Betsie Valley plays to 6,567 yards and is a great walking course as holes are cut through forested land and across and alongside creeks and ponds.
Thrill-seeking golfers flock to the Mountain Ridge course as it traverses up and down the hills that have made the sprawling property one of the Midwest's premier ski resorts during the wintertime. The scenic five-minute ride up to the first tee from the clubhouse serves notice that players will have to elevate their games to challenge this 7,007 par-72 layout. And while many of the first few holes of each nine are laid out over gently rolling terrain, the landscape changes dramatically across the course and particularly over the final four holes. Following the spectacular par-4 No. 15—which features a sprawling waste bunker extending the entire length of the hole—the player ascends a cart path into the heavens.
Once arriving near the 16th tee, take a few minutes away from your round to enjoy the wondrous view of the Betsie Valley far below. When you get around to the next task at hand, look to hang your drive alongside the tree line on the right side of the dogleg right par-4 No. 16. This decision cuts your approach shot down from a mid-iron to a short iron, as the green is perched on an incline.

The 17th hole is a relatively short par-3 made shorter yet by the steep drop in elevation to a green virtually surrounded by sand. Happily, No. 18 is a par-5 birdie hole that plays shorter than the 568 yards listed on the scorecard.
Once back at the clubhouse (also home to high-end condominium accommodations thematically linked to the great castles of Scotland), enjoy a pint of ale while planning your next adventure. A long list of family-friendly options available on resort grounds is highlighted by Alpine Slides—two 250-ft. high, 1,600-ft. long tracks which steer coasters on a wild, curvy ride down the mountain. Following a few hair-raising rides, head to the aforementioned 18,500-sq.-ft. spa featuring 12 treatment rooms, a meditation lounge, and even an outdoor meditation garden.
No lengthy stay at the resort is complete without a visit to Sleeping Bear Dunes—a 70,000-acre national park featuring sand dunes towering 460 feet above Lake Michigan. One of the natural wonders of the Midwest, the dunes provide amazing panoramas of the Michigan skyline and feature one site that slides directly into the refreshing waters of Lake Michigan.
Once back at the resort, golfers with sand still on their minds can sign up for an array of clinics, private lessons, and elite classes that include instructions on how to properly extract one's ball from a deep bunker. According to director of golf Dean, the academy provides options for teaching every ability level. "We make a fun game even more fun no matter your abilities," he stated. "On any given day, we have business groups, kids, and couples hitting golf balls only a short distance away from some of country's top high school and college players."
A free Michigan tour guide is available at www.michigan.org.
Crystal Mountain Resort & Spa
12500 Crystal Mountain Drive
Thompsonville, MI 49683
800-968-7686
www.crystalmountain.com
---
The Resorts of Tullymore & St. Ives

A sweet sound can be heard echoing across a few select fairways at Tullymore Golf Course in Stanwood, Michigan. The sound is not that of chattering birds, even though there are plenty of those traversing the layout. Nor is it the sound of rustling trees, even though gusts will occasionally visit the forested areas that tower over fairways and greens on virtually every hole.
While the racket made by hammers striking nails may not be described as "sweet" by some, construction crews immersed in work have become a rare commodity across the nation's golf course properties since the economy went south. Rarer still—and perhaps unique in all of Michigan—is the ongoing building boom currently being experienced by this sprawling 36-hole resort complex. Elegantly designed custom homes and luxury condominiums are being gobbled up almost as quickly as they are crafted at a development known as The Villages At Tullymore.
"We've been extremely fortunate," Kevin O'Brien, general manager of The Resorts of Tullymore & St. Ives, acknowledges. "The high national ranking of Tullymore Golf Course (recognized as #15 in 2009 by Golf Digest) has generated lots of interest from buyers in places like Florida, Texas, and Illinois."
Indeed, the intriguing design by Jim Engh brought droves of golfers to this community since the course's inception in 2002. Named #1 New Upscale Public Course in America that year, the course was described as "bedazzling" by Ron Whitten, who proclaimed that Tullymore was "as close as golf will ever get to Art Deco" due to the sweeping parallel curves and angles that define each hole. Stretching to 7,250 yards from the championship tees, the layout darts around and over wetlands and forests while snakelike sand bunkers slither alongside fairways to increase the challenge. And while the course provides an ample test of skills particularly off the tee, the reason why golfers travel here from across the country is the visual feast of nature that serves to enthrall and inspire. Simply put, the breathtaking natural beauty of Tullymore is the property's true star attraction.
Highlighting the course are five splendid par-3s, including three in a 4-hole stretch on the front nine. Stretching from 257 yards on #12 to a more polite 178 yards on #15, these holes can bring down scores significantly if the aforementioned sand and wetlands can be averted. Conversely, the course's diabolical five par-5s can punish a scorecard—particularly on holes #13 and #16 which each play to 600 yards from the back tees. Tullymore's final par-5 plays to a more modest 535 yards yet requires accuracy from tee to green due to an imposing lake that captures errant tee shots. This magnificent par-5 was previously described in this magazine as one of Michigan's greatest finishing golf holes.
While national attention has drawn golfers to Tullymore, many will find that course's sister property—St. Ives—to be equally alluring. While the course, at 6,702 yards, is not as long as Tullymore, it is every bit as challenging. Dramatic elevation changes and vast stretches of wetlands provide spectacular scenery while creating significant problems for golfers who don't bring their "A" games to the 1st tee. Course architect Jerry Matthews—one of Michigan golf's premier architects lauded for his commitment to natural golf design—provides ample birdie opportunities on the front nine with three par-4s at less than 350 yards of length. Players are well advised to take advantage of those chances early as the back nine fights back fiercely with five of the final six holes featuring lakes and wetlands.
Highlighting this back nine is the 429-yard No. 14, a par-4 that calls for a well struck tee shot setting up a mid to long iron entirely over wetlands leading to an elevated green. Any approach shot hit even slightly thin will call for a reload along with a lost stroke.
The Resorts of Tullymore & St. Ives provide two of the finest golf courses in all of Michigan. Along with the aforementioned condominium rentals and fractional home ownership opportunities at Tullymore, the resort offers four-star accommodations at the Inn at St. Ives which has 44 guest rooms. Menu options vary from fine dining to burgers at various venues located on both properties.
General manager O'Brien promises that the sounds of nails being pounded into wood will not stop any time in the near future at the Tullymore property. "Along with the continued development of The Villages At Tullymore, our master plan calls for a Spa & Wellness Center," he says. "We truly believe that these additions will add still another dimension to Tullymore."
The city of Stanwood is located one hour's drive north of Grand Rapids and 20 miles east of Mount Pleasant.
The Resorts of Tullymore & St. Ives
9900 St. Ives Drive
Stanwood, MI 49346
800-972-4837
www.tullymoregolf.com
---
Going Coastal in the Ozarks

When you begin to see roadside firework dealers and white-boxed fudge retailers, then a great drive has reached its destination. Arriving at Central Missouri's Lake of the Ozarks, visitors share those indulgences, as well as a chance to experience the efforts of man using technology to dam the Osage River and create a recreational reservoir that has over 1,150 miles of coastline.
While Osage National Golf Resort was not the first course at the lake, the 1990s golf boom's addition put the Lake of the Ozarks on the map as a legitimate destination for golfers. Osage National has three distinct nine hole loops: the Links course and the Mountain and River courses, the only two Arnold Palmer designs in the state.
The Mountain course traverses the Ozark hillsides and bluffs and is decidedly alpine golf. The opening three-hole stretch may be the best send-off sequence at the lake. The blue tees are as far back as most golfers will want to play Osage, so the brave will need to carry a full cache of balls. From the blues, the first hole is a 381-yard, par-4 that plays between a razorback ridge and a maximum-security creek. There is plenty of room, so go after it, being sure to favor the right side of the fairway. Getting to the green is manageable, but getting in the hole requires a little courage. The sneaky green complex is best approached knowing that an up- or downhill, double break putt awaits. A nice kickoff, but do not expect much room to swing the cat on subsequent holes.
The next hole, a downhill, 155-yard par-3, may read dainty for long-knockers, but the hole is set on the floor of a grassy amphitheater. The elevated teeing ground teases golfers with swirling gusts and a panorama of movement in the trees and native grasses. This plays havoc with club selection, especially when the previous hole was played in dead air.
The third hole, 420-yards from the top shelf, begins from the crown of a bluff. The teeing box feels like a launch site for hang gliders, so get the stopwatch ready. Tee balls here put NFL punters to shame when comparing hang time. Be ready to kick the swing into the climbing gear toward the prize. The uphill approach looks like you need to land an 8-iron on a three-flat apartment. Best be long and use the severe back-to-front green to cool a hot approach shot.
The River course at Osage National runs along the Osage River and is a long, grueling test, especially from the teeing ground. With water hazards looming on every hole, the River loop is not a pushover and will frustrate a loose swing. A big miss from the tee or fairway will teach you about Ozark punishment, which is deserved and inescapable. While the Mountain offers the best opening sequence at the lake, the River course concludes brilliantly with a 581-yard, par-5. Even after two great shots and a short-iron left to reach the prize, par is not a safe bet until the ball is resting on the green, which is crotch'd between massive, intimidating bunkering. A great finish to a day of Ozark golf, and one that will leave golfers second-guessing their strategy or swanking their efforts on this marathon three-shooter.
For resort golf with some of the best lake views, tackle Tan-Tar-A Golf Resort's Hidden Lakes course, a nine holer that levels the playing field for short hitters. Although it lacks length at just 3,015 yards, the sporty layout is fun and requires precise shot making to score well, but even rusty swings will enjoy the challenge to create shots. The big brother course at Tan-Tar-A is The Oaks. The 18-hole layout of the resort plays on fast and firm turf. While The Oaks is at a resort, this track is difficult and should probably post a warning to guests, 'Accomplished players may experience success. Others will enjoy the course, but not their score.' While relaxation and recreation are the cornerstones at Tan-Tar-A Resort, skill and confidence are the key to playing well at both her courses. Nevertheless, even if you find yourself shopping for more golf balls between rounds, Tan-Tar-A's humbling courses give guests more than a few tales to share with their league partners upon returning home.
South of Osage Beach in Camdenton, Old Kinderhook Golf Club is Tom Weiskopf's design that is annually rated as one of the top five courses in the Show Me State. Old Kinderhook earns this praise with course conditioning that would shame most country clubs, and a layout that tickles the gray matter with risk/reward opportunities and multiple lines of play. When you need some room to pound the driver, you'll find it, but Weiskopf's masterpiece is at its best on the par-4s. These two-shooters are stretched and short, devious and delightful. One of the gems is short and sassy, playing well under 320 yards from the tee. Hole 6 will not be strong-armed with a driver, but can be finessed with mid-iron or hybrid. Hole 6, a 306-yard dogleg right with a perched green, is a chance to show your shot-making skills, or display greenside prowess. The shortside bunker is as intimidating as any pot bunker you'll play, but it isn't impossible to show your mettle here as the sultan of silica. Old Kinderhook is a treat, so over-indulge with a 36-hole day.
Lake of the Ozarks is a recreation reservoir for boating and fishing, but if a mid-summer's shower delays your game, don't forget to sample the underworld in the Ozarks. Bridal Cave (526 Bridal Cave Road) is just minutes from Old Kinderhook and is one of the richest collections of stalactites, stalagmites, and geological formations in the country. Still raining? Grab the kids and try splashing something besides a Pro-V1 by hitting Tan-Tar-A Resorts's Timber Falls Indoor Waterpark. It is loaded with sprinklers, slides, and pools, but the lazy river may be the key to balance your chi for the next round.
Looking for the best catfish at the lake? Camp Bagnell (401 Old Bagnell Road) fries thick fillets in a crunchy breading, and after one basket, you won't question why this is where the locals dine. The casual tavern setting means you can go from course to cole slaw without removing your softspikes. Although it goes against every heart healthy diet known to man, do not be shy about ordering a stack of sinfully appetizing onion rings, served on a vertical wooden dowel.
The best arctic treats are at Randy's Frozen Custard on highway 54 in Osage Beach. Just look for the long line of couples and families and trust there is a reason the front of the stand looks like a DMV line. The Ozark Turtle is Randy's speciality. Go big and do not even think about sharing! Remember that you'll be heading back to Chicagoland and there is no guilt when it comes to overindulgence at the Lake of the Ozarks.
Osage National Golf Resort
400 Osage Hills RoadLake Ozark,
MO 65049 866-365-1950
www.osagenational.com
Tan-Tar-A Resort
State Road KK
P.O. Box 188TT
Osage Beach, MO 65065
800-826-8272
www.tan-tar-a.com
Old Kinderhook Resort & Golf Club
20 Eagle Ridge Road
Camdenton, MO 65020888-346-4949
www.oldkinderhook.com
---
Perfection on the Pacific Bandon Dunes, Oregon

With the scent of the mighty Pacific Ocean, the lure of the rolling dunes, and four American links courses, Bandon, Oregon, has become golf's American pilgrimage. The ensemble of courses at Bandon Dunes Golf Resort is without debate the greatest collection of golf courses in the nation and the purest golf experience in the Americas. Chicago entrepreneur Mike Keiser discovered and developed the rugged golf playground in southern Oregon. "I was lucky to find an unbelievably good site in the middle of nowhere and the people responded," the business visionary humbly comments. And the new Old Macdonald course, another Tom Doak design, is preparing to open at Keiser's retreat. This amazing piece of property is simply huge and pays homage to Charles Blair Macdonald, the Scot that brought golf to Chicago.
Keiser's Bandon Dunes is not a carpeted country club. The focus at Bandon Dunes Golf Resort is pure golf. Linksland golf. What is linksland? It's defined as land attached to a large body of water, usually an ocean, with sandy, firm soil topped off with durable fescue grass. It's authentic gowf laddie! A true links golf experience in America is a rarity, with only 160 true links courses on the planet. If you didn't know where you were, you would swear you were in the United Kingdom. But this is America the Beautiful— beautiful rural Oregon. The city of roses, Portland, is some four-and-a-half hours drive away, a fact that does not deter masses of purists from coming here to bathe in the euphoria of all things Bandon Dunes.
The resort has a decade under her belt and has quickly made a name for herself with two courses, Bandon Dunes and Pacific Dunes, stepping into the top five of most national "Best of" rankings in the states. Keiser has established a national treasure. While Bandon Dunes and Pacific Dunes are perched more than 100 feet above the pounding Pacific Ocean, Bandon Trails and Old Macdonald approach the eroded cliffs from a inland angle. Both courses provide thrill-seeking purists and traveling buddy brigades an experience on the linksland that will knock your putter socks off. Bandon Dunes is simply the way golf is meant to be played. With wide fairways and vast greens, these courses are big in every sense of the word; some of these greens encompass over 20,000 square feet!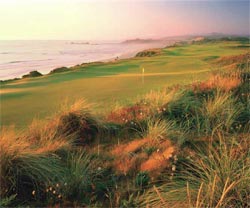 A walk to remember… forget about taking a golf car, unless you have a disability or a note from your doctor; the courses at Bandon Dunes are for walkers only. Here, you lace up the spikes and play just like a golfing pioneer. Caddies are recommended for a number of reasons. These loopers not only schlep your bag, they steer your strategy, tackle windeffected yardages, and read greens that are bigger than most backyards. These caddies are professionals in every sense of the word. They will also share wonderful stories, and keep you entertained on your scenic journey across the linksland. If you've been to Pebble Beach, and you loved Scotland—it's time to make the pilgrimage to Bandon. We think you will rank it above Pebble Beach, and we rate our experiences playing links golf across the UK on-par with Bandon, not the other way around.
The new and improved North Bend airport served by United Airlines makes it even more convenient, as it is less than a half hour drive to the resort. Bandon Dunes is the place where you put the iPhone and all its applications in the suitcase and immerse yourself in pure golf.
Bandon Dunes Golf Resort offers one of the best values in golf today. After playing your first round of golf each day, if your desire is to tackle the same course again, or venture onto one of the others, the green fee is half-price. Better yet, your third round that day is free. Where else will you find that?
Bandon Dunes Golf Resort
57744 Round Lake Drive
Bandon, OR 97411
888-345-6008
www.bandondunesgolf.com


Mike Keiser On Bandon Dunes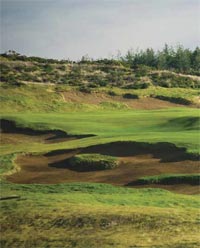 GC: How did your vision become a reality?
Keiser: I got lucky and found an unbelievable site in the middle of nowhere and got some great architects to do these courses, and the avid American golfer responded. I feel that I'm a steward of the land for the time being, but there will be a steward beyond, and it's all for the good of golf.
GC: Was it part of the initial dream to have more than one course?
Keiser: The initial dream was to build more than one. It was no more than a dream. The odds were that we wouldn't break even. Our initial goals were to do 12,000 rounds. This would be a break even point for us. We ended up doing 20,000 rounds the first year and then 40,000 the second year.
GC: How do you explain the attachment that golfers have to Bandon after just one visit?
Keiser: The power of links golf and the Pacific Ocean. Great links golf. If there were no ocean, in my opinion, they wouldn't say—I gotta come back. Many would, but not as many as now. You put the two together—ocean and links golf and add in the price. I think everyone feels that way about Pebble Beach, but at $500 a round and limitations to play only one round, it isn't as compelling. Fabulous dunes course, Fabulous links course.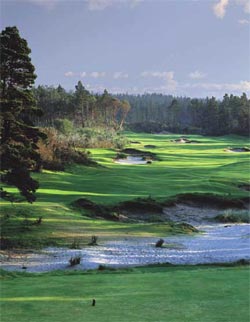 GC: How important are the rankings to you?
Keiser: If we were private, they would provide a little sugar on the top, but since we are public, they are extremely important. Quite possibly, it is because of their popularity each course is ranked so high. That ranking validates the impulse when you are there that you want to come back—that validates those rankings.
GC: Why the new CB Macdonald course over some of the "golden age" greats?
Keiser: As you know, CB Macdonald is the father of American golf. I think he's the best architect since 1900, and this is an homage to him.
GC: Was that your plan to have a different designer for each of the courses?
Keiser: Yes. If we were lucky enough to have more than one course, I planned to use a different designer on each course. On the fourth course—Old Macdonald— I did not double up with Doak. I picked CB Macdonald and Doak is the messenger, or the errand boy, for CB Macdonald.
GC: Can another Bandon be built here in the states?
Keiser: Great links can happen in Nebraska. The sandhills could hold 500 great links-like golf courses. And that would be my bet. I think there will be 50 courses in the Sandhills in the next 50 years. But…there's no ocean, so I don't know if it would be that compelling. It's close, but it is fabulous golf terrain. The most natural place for another Bandon is about 50 miles north of Bandon because that is all sand dunes. If Oregon were so inclined, they could build an Oregon Golf Trail just like Alabama or Tennessee. If they chose the right architects, it would be powerful. I have seen no indication that there is any curiosity or interest of doing that.
---
Great Drives - Central Michigan's Mount Pleasant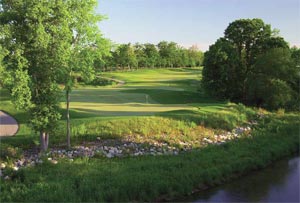 The 1998 hit movie Pleasantville depicted a charming and pristine rural American town bustling with happy parents and their doting, precocious children. While little factual evidence exists that the Central Michigan city of Mount Pleasant was the inspiration for that film, the fact that 15 golf courses reside in or around the area offers proof positive as to why the 25,946 residents here are just so darned pleasant.
Outside of such U.S. golf mills as Myrtle Beach and Palm Springs, few cities in the country can boast this ratio of golf courses per capita. The fact that a fair number of the Mount Pleasant layouts are tournament caliber at bargain green fees makes the city that's just 4.5 hours from Chicago an out and out golf destination.
One of the city's most prominent families built Bucks Run Golf Club on 290 acres of land formerly used for gravel mining. The owners of local businesses Fisher Sand & Gravel, Fisher Transportation, Central Asphalt, Central Concrete, and Fisher Contracting Company, among other entities, were bitten by the golf bug 10 years ago. They enlisted Lansing architect Jerry Matthews to create a course that rambles across and around three lakes and the photogenic Chippewa River. These foreboding bodies of water come into play on 13 holes, with the par-4, 18th hole doglegging around the 34-acre Fisher Lake and its 30-foot bluffs. As great as the golf course is, ironically the centerpiece of the complex is a two-acre putting course featuring 18 individual bent grass holes situated on a peninsula adjacent to the clubhouse. Bucks Run was voted the No. 1 course in Michigan in a Detroit News 2008 readers' poll.
Located a one-mile drive away from Soaring Eagle Casino & Resort, Pohl Cat opened in 1992 and was designed by Mount Pleasant native and former PGA Tour player Dan Pohl. The aforementioned 100-foot wide Chippewa River again plays a starring role in routing of this 6,889-yard layout. The course actually has two distinct personalities as seven holes are out in the open with lakes and the river as the primary deterrent against errant tee shots. The rest of the course is cut through forested land to provide a majestic feel. Pohl Cat staffer Fred Stabley feels the 17th hole is the club's signature hole. "This par-3 is a favorite of most golfers," he says. "You have to hit a mid-iron tee shot over the Chippewa River to a three-tiered green protected by four gaping sand bunkers. Hit your tee shot a little thin and you have to hope your ball finds the sand, as the alternative is a watery grave." Stabley says the greens at Pohl Cat are, quite simply, "phenomenal."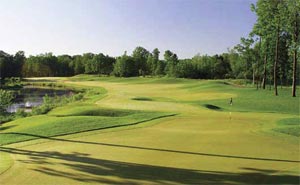 Two other Mt. Pleasant courses of note are fun, traditional layouts. Riverwood Resort was opened in 1930 and serves up a 9-hole executive course to complement a championship layout composed of the Green and White 9-hole courses. For the past 39 years, the resort has hosted the annual Riverwood State Junior Tournament open to all golfers 18 or under. Eagle Glen has a Scottish Links feel to it, plays to 6,602 yards, and is annual host to the Michigan State Match Play Championship.
While not located directly within the Mount Pleasant area, the astounding Resorts of Tullymore and St. Ives are about 30 minutes due west. To be profiled in a future issue of Golf Chicago, these two 18-hole layouts are among the finest in the state. Designed by Jim Engh, Tullymore (which just opened a $7 million clubhouse) has been recognized as one of America's top 100 golf courses by at least one national golf publication. The resort includes a spa, multiple dining options, and elegant accommodations.
Mount Pleasant is located 70 minutes west of Lansing near the intersection of U.S. Highway 127 and U.S. Highway 27. A cooperative known as Golf Central Michigan provides discounted package deals with access to 13 area golf courses along with lodging and dining. These packages are arranged through the Mount Pleasant Convention and Visitors Bureau at www.mountpleasantwow.com.
More information about centra l Michigan's golf offerings is available through the State of Michigan Tourism Department's Web site www.michigan.org.
---
Great Drives - Great Golf Around the Mad City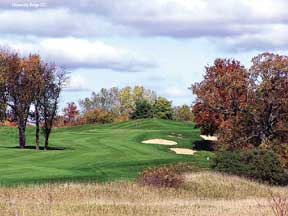 On select autumn afternoons, Madison, Wisconsin, may just be the most magnificent city in all of America. Students, alumni, and state residents clad in red caps, hats, sweaters, sweatshirts, hoodies, and T-shirts take over the streets surrounding Camp Randall Stadium hours prior to kick-off of their beloved UW football team. Fans in various states of lubrication march, strut, stagger, and stumble their way through the turnstiles as the Badgers take the field and the school band rouses all into a frenzy for the ensuing three hours it takes for the team to crush its worthy opponent.
Less than a 15-minute drive from downtown, the community's golf courses rest in utterly serene contrast to the rattle and hum of this city that bustles even in mid-summer when the students are on summer break. In fact, most of these courses are far enough away from Madison that you are more likely to observe silos and stalks across the street from the clubhouse than you are a dormitory or a fast food restaurant. Even the university's home course, the amazing University Ridge Golf Course, is tucked away in Verona—8 miles of pastureland away from town.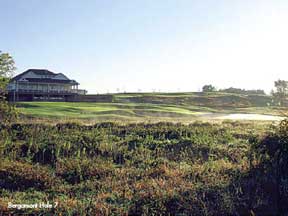 Chicagoans looking for splendid and sometimes spectacular golf will find that the green fees are so reasonable that they easily justify the two-hour drive up I-90 through Rockford and into the Land of Cheddar. With crude oil topping $140 a barrel, this Great Drive can be reached with less than half a tank of gas.
The Legend at Bergamont(Oregon) Two-time U.S. Open champion and hometown hero Andy North designed this outstanding 7,330-yard layout located just off Highway 14 in Oregon, just nine miles from Madison. Named one of America's top new courses in 2006 by a national golf magazine, the tract weaves through and along large stretches of streams and lakes. A new 34,000 square foot clubhouse is scheduled to open on the property later this summer.
University Ridge Golf Course (Verona) University Ridge Golf Course is not only appropriately ranked as one of the elite golf destinations in Wisconsin—in the same league as SentryWorld, Lawsonia and Blackwolf Run—but has also been recognized as one of the top ten college golf courses in America. Host course of the Badgers golf team, the property also features an outstanding practice facility that is undergoing expansion set for completion later this summer.
Built by Robert Trent Jones, Jr. in 1991, the golf course features majestic views of the countryside as holes swoop over, around, and down the namesake ridge. Assistant professional Ryan Wieme states that the addition of tee boxes last fall was an important update of the layout's design. "The course has been lengthened from 6,888 yards to over 7,200 yards to make it more challenging for tournament players," he says. The fact is the course has always played longer than its yardage due to the designer's signature sand bunkers that are diabolically placed near tee shot landing areas and in front and alongside most greens.
The Oaks Course, (Cottage Grove) Opened to great acclaim in 2004, the 6,763-yard layout provides four distinct tee boxes to accommodate players of every ability level. Director of Golf Nick Scott calls holes 14 and 18 the best two on the course. "Our regulars really enjoy the challenge of #14 as it plays to 435 yard from the championship tees and calls for two accurate shots for a chance at birdie. The drive has to overcome a good stretch of wetlands and land far enough up the fairway to set up an approach shot over more wetlands to the green. The 18th hole is a par-5 that can be reached in two if the player can hit a long second shot over more wetlands that cover the last 80 yards of the hole up to the green."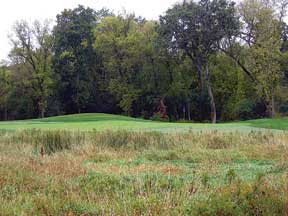 The course is located just off of I-94 about 10 miles from Madison. Mention Golf Chicago! when paying for a full foursome and receive a $20 credit to pay for gas for your trip back home.
The Bridges (Madison) Opened in 2000, the course is appropriately named since water is never far from any tee or putting surface. Stretching from 4,811 yards to 6,888 yards, the layout is located a short distance from Madison's Airport.
One trip to the Badger State capital and golfers will be hooked. This fall, if you stumble across a couple UW football tickets, my editor and I will be glad to fill your foursome at Camp Randall.